1971 – 2011
Kristi Gaddy was born December 11, 1971. She lived in southern California most of her life surrounded by a large and loving family. She always had an affinity for animals, beginning at a young age with her beloved dog Poco. Anyone who knew Kristi talked about her joy and light. She was curious, cheerful and positive and had a very strong sense of self.
Following the path of learning, Dr. Gaddy became a graduate of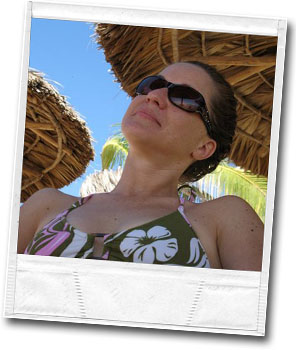 Washington State University, College of Veterinary Medicine in 2002, and launched into the practice of small animal and exotic medicine in San Diego. She stood out amongst her colleagues for an unflagging commitment to the comfort of her patients, the emotional support of her clients, and the wellbeing of any creature, great or small, that limped, scurried or crawled across her path. She did not shy away from difficult challenges, which she tackled with intellect, creativity, and a deep well of compassion that never faltered. Her stated interest, simply put, was "helping you keep your pet healthy and happy."
Kristi was remarkably in-tune with living creatures of any sort, and supremely sensitive to suffering. She was tireless and driven to help, often finding injured creatures near her home in need of TLC. Her patients ranged from snails with fractured shells, orphaned neonatal mice, a stink-bug infested with mites, wild pigeons, and the full complement of cats, dogs, reptiles, birds, rabbits and more. For clients in need of special assistance she traveled to help them with patient care in their homes. Her clients sensed her dedication, resolve and compassion, becoming steadfast and loyal followers.
Kristi felt keenly the plight of feral dogs in Mexico and Central America. She had traveled to Mexico where her family was originally from, and on several occasions she volunteered on-site and advised international shelters to better structure their programs in maintaining the health of their stray dog populations. It was her hope to return someday and establish a real sanctuary or self sustainable spay/neuter clinic in Mexico.
Kristi was mom to 3 dogs, 2 cats, 2 turtles and a few (too many) pigeons. Many of her pets through the years have had special needs, and all were rescued from hardship or illness, some brought back from the brink. Her personal interests included music, photography, crafts and construction, hiking, politics, green living (and more music). In fact, her interests were many, as life held much to captivate, motivate and, sometimes, obsess her. She stayed up all hours learning, researching and exploring her latest point of interest.
Dr. Gaddy leaves behind her mother Lili Lamb, father Mike Gaddy, beloved family and pets (Manina, Tessa, Jackson, Flash, Penny Lane, Boy Bird (and his flock), and more). Lili retired from her loyal client base as an aesthetician in Los Angeles in 2005; she and Kristi combined their resources to purchase a home, perched over a canyon and nestled in the boulders sprinkled along the ridge of La Cresta in El Cajon. It is a place of beauty, spiritual in its embrace of nature. It is one place in which Kristi will come to rest.